As hospitality and travel PR professionals, we love when airlines spice things up and partner with fun brands to elevate the passenger experience. With Southwest Airlines' Coco-themed plane beginning to dot the sky, we decided to take a look back on our favorite airlines co-branding partnerships: 
Disney•Pixar Coco + Southwest Airlines
In anticipation of the Disney•Pixar's 3D musical fantasy movie Coco, a film about a boy in Mexico trying to achieve his dream of becoming a musician, Southwest Airlines has unveiled vibrant Coco-themed Boeing 737-700 aircrafts. The colorful aircraft will fly among the carrier's nearly 100 destinations throughout the United States, Mexico, Central America, and Caribbean through the end of 2017. Customers on flights will also be able to view movie clips and trailers through the Disney•Pixar Coco OnDemand Channel. Southwest and Coco are a perfect pair because they share universal themes—a strong connection to family and chasing big dreams.
The Justice League + Turkish Airlines
Though Wonder Woman can fly herself, she still called on a partnership with Turkish Airlines to promote Batman V Superman, the first film in Warner Bros.' new Justice League-themed franchise that includes Wonder Woman. Cross-promotions included movie-themed care kits and a wrapped 777. In two TV commercials for the movies, Batman and Superman discuss two new Turkish airline flights – combining celebrity endorsement deals and product placement
Entourage + Virgin Airlines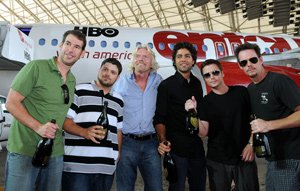 Prior to Entourage's fifth season in 2008, Virgin America created a Entourage-themed flight between New York and Las Vegas. A custom Virgin America Airbus A320 "Entourage Air" was debuted at a red-carpet event before taking its inaugural flight. Virgin Group's Founder Sir Richard Branson and the Entourage cast kicked off the event by popping Dom Pérignon – three brands that have a similar fan base. First class guests on the flight received A-list perks such as noise cancelling headphones, champagne, Kiehl's travel kits and more.
"At a time when many U.S. carriers are cutting routes and amenities, we're pleased to be adding flights to world-class destinations like LAS and winning awards for our upscale design, entertainment and service. We thought it was fitting to launch our non-stop flights from New York to the entertainment capital of the world, with HBO content fleet-wide and 'Entourage Class' service in First Class," said Virgin America President and CEO David Cush. "As an airline hoping to reinvent U.S. air travel, we're proud to enter this unique partnership with HBO, a company famous for redefining its own genre with edgy, award-winning content like Entourage."
Advertising on airplanes is pretty genius – you have the complete attention of passengers for hours at a time, and you can specifically target the high-end passengers in first class. Next time you take a window, aisle or middle seat, look around and you may feel brands seeping into your air travel experience.